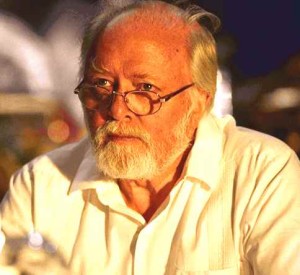 On August 24th, the incredibly talented Richard Attenborough passed away at 90 years old. Richard starred in numerous films in his career, and even directed some; winning Academy Awards. But at TresCom we all knew him best as John Hammond from the Jurassic Park films. He ended up reprising his role for Trespasser, recording over half an hour of dialogue for the game from a script by Austin Grossman. Anyone who has played Trespasser will remember his dialogue very well, popping up at precise moments to give players wonderful bits of backstory and even a hint or two. He also effortlessly made us feel for the character and understand him in a way the films never could. He truly made the experience feel authentic and enjoyable.
My site, Jurassic Time, which hosts an audiobook-like program of his Trespasser dialogue, has dedicated a new page to Richard Attenborough. It sheds some light on who he was, and how he will always be remembered. It includes some personal thoughts of my own. Keep his "lost" performance alive by spreading Jurassic Time with others.
Everyone here at TresCom are saddened by this loss. But he shall never be forgotten by any of us.