Welcome, to another program of TresCom News!
Fall Lodge Release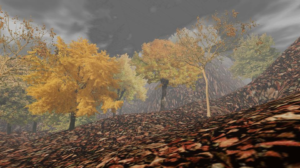 There might have been an absence of news post but surely there have not been an absence of work in the community.
Fall Lodge is a level with a small twist made by the community member Draconisaurus, crated for Halloween 2017. The level itself is not your typical Trespasser level. Its main focus is its type of mini game. In this level your goal is to gain as high score as you possibly could by killing dinosaurs. As the level title suggest, it is set in a fall theme and possibly the first Trespasser mod to be released in this theme.
Grab it now and get your own high-score. We want to hear all about it in the original forum post that you can find here.
Grab the level in our download section or here: Fall Lodge Download
In other news…
The Cutting Room Floor
Our member Glitchhunter have over the past months working a lot with gathering all the information of early Trespasser information onto the Cutting Room Floor site. He has done some amazing work so far and I suggest you all to check it out.
Trespasser Cutting Room Floor Page.
Trespasser Cutting Room Floor Proto Page.
Trespasser Online Role-playing Game
I believe this is worth mentioning as well. Over the past year, members over at our forum have played their own online role-playing game with Trespasser. It is pretty popular among some of them and I also suggest you to check this out and join in over here.
Return to Jurassic Park is still alive!
Our community member TheIdiot have worked a lot over the years with his RTJP mod. Late last year he went into the final stages of his project and are working hard on getting the first level finished, titled "RTJP~Helipad". Be sure to check out his project here and tell him what you think so far! 🙂